The NETHERLANDS in the DAVIS CUP
The International Lawn Tennis Club of the Netherlands (IC of the Netherlands) has published this book on the occasion of its 75th anniversary in 2006. The book contains a complete overview in brief of all matches played from 1920 onwards, as well as monographs of the players and coaches, and is richly illustrated with  hundreds of photographs. It is a luxury hard-cover edition with dust-jacket of approx. 220 pages, on A4-size paper.
The first glorious decade with Diemer Kool, Van Lennep and Timmer receives a lively description, and after the poor fifties and sixties we arrive at the era of the great successes of Krajicek, Koevermans, Haarhuis and Eltingh, after which players such as Schalken, Wessels, Verkerk and Sluiter are able to continue on the positive course. First, though, we reflect on the seventies and eighties featuring Tom Okker and other professional pioneers such as Rolf Thung, Louk Sanders, Huub van Boeckel and Michiel Schapers. The more recent matches of 2006 are also described.
This book, which is of historical importance, not only deals with success and failure, but also with what goes on behind the scenes and the tensions, the hard decisions and the disagreements. All those involved will have their say. What did players think of their adversaries and of each other? Funny anecdotes alternate with interesting observations.
The Dutch Tennis Federations judges this project to be of great value and supports it in several ways, using all its possible channels of communication to sell the book to the public and, of course, it will also be available through bookstores. The retail price will be € 29,90.
Companies buying the book for promotional purposes can have their company name printed on the dust-jacket at the following prices:
10 – 50 copies       € 24,50 each (VAT excluded)
50 – 100 copies    € 23,50 each (VAT excluded)
100 – 200 copies  € 22,50 each (VAT excluded)
You can contact:
Mark Koevermans, President of the IC of the Netherlands e-mail: mark.koevermans@oneilleurope.com
or Theo Bollerman e-mail : cab.bollerman@planet.nl
The book, written by Theo Bollerman and Ruud Pauw, is presented to the former Davis Cup-players and captains in an animated meeting on the 18th of June at the tennisclub "Victoria" in Rotterdam. Louk Sanders opens the meeting:
[Foto's: Rien Hokken]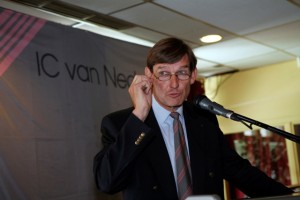 The listeners with in the middle Klaas Rijpsma: president of the KNLTB (Dutch Tennis Federation), Erica Terpstra: president of the NOC-NSF (Dutch Olympic Committee and Sports Federation) and Hans van Swol: Davis Cup player 1936-1955 (!)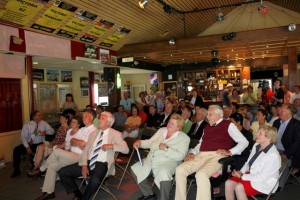 More listeners, with right from the middle the daughter and granddaughter of Arthur Diemer Kool: former Davis Cup player 1920-1930
Listeners on a distance, with in the middle Martin Verkerk: Davis Cup player 2003, 2004
Theo Bollerman: writer of the book
Mariëtte Hehakaya plays compositions from 1880-1930, dedicated to the lawn tennis sport
The first book is presented to NOC-NSF president Erica Terpstra by KNLTB-president Klaas Rijpsma
And then the book is presented to the former Davis Cup players and Davis Cup captains (or their wives) who were able to come to Rotterdam this sunday
Honour to the writers Theo Bollerman and Ruud Pauw
And now the book!
The job is done …